Pubg News India
Last week we had told that a new update for PUBG Mobile will come around April 16. Today we are watching normal in-game maintenance notifications. According to the notice, the game will be kept offline for UTC from 00:00 to 08:00, which means that in India, it will be from 5.30am to 1.30pm.
It is further mentioned in the notice that the new version will be available from 17th April. New updates are expected to bring a more competitive version of Darkest Night mode, an audience mode, and survival Till Dawn.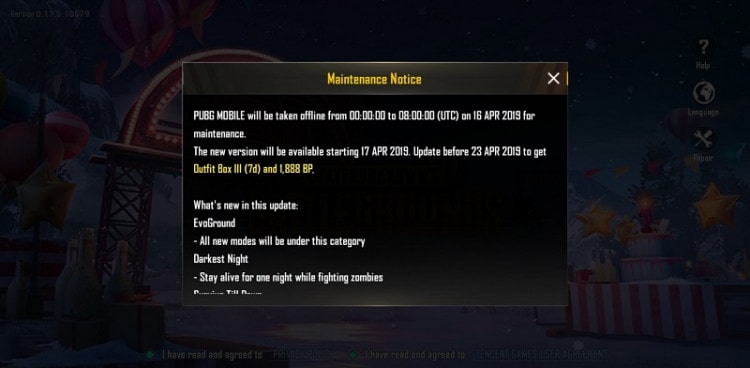 Image by www.news18.com
Here are the patch notes shared by Tencent:
Dawn 2.0 - PUBG Mobile x Resident Evil 2 Survival game mode will be rebuilt with new horrific slogans and even more never-seen ballistic weapons for bad gameplay;
Dark Knight - Players can create a single or drop-in solo team to evade empty attacks and toxic gas;
-Spector mode - Players can observe live action by watching the matches of their friends, crew and clan members;
-CrossHair Modification - Red dot, holographic, 2x scope, and 3x scope can be adjusted in different colors with several shape variations of red dot reticle.
As long as Don 2.0 survives, then we should bring a more challenging environment where we can expect some new weapons along with a more competitive zombie. Darkest Night mode will be a new addition where players can team up to fight zombies and poison gas to avoid 30 minutes or go alone. Probably one of the best features will be the new Spectator mode where players will be able to inspect the live-action gameplay of their friends. Finally, we have CrossHair modifications for red dot, 2x scope and 3x scope that can help improve your shooting accuracy.
Tech News